Borey (Βορέας) – God of the north wind (from Ancient Greek mythology)
Certification rules – New LTF-UL
ADVANTAGES
– Simple to fly and to maintain
– Ideal for pilot training on flying boats
– Ideal for hunters, fishermen, adventurers
– Composite structure
– Large cargo compartments
– Safe Design
– Ballistic Parachute System, BRS
– Can operate in wind waves up to 50 cm (19.7 inches)
– Short takeoff from land and water
– Ability to taxi through the shallow water overgrown with sedges
– Ability to self – taxi from water onto shore and vice-versa
– Snow ready (skis – option)
– Airframe warranty two years or 100 flight hrs (whichever occurs first)
– Responsive customer service and support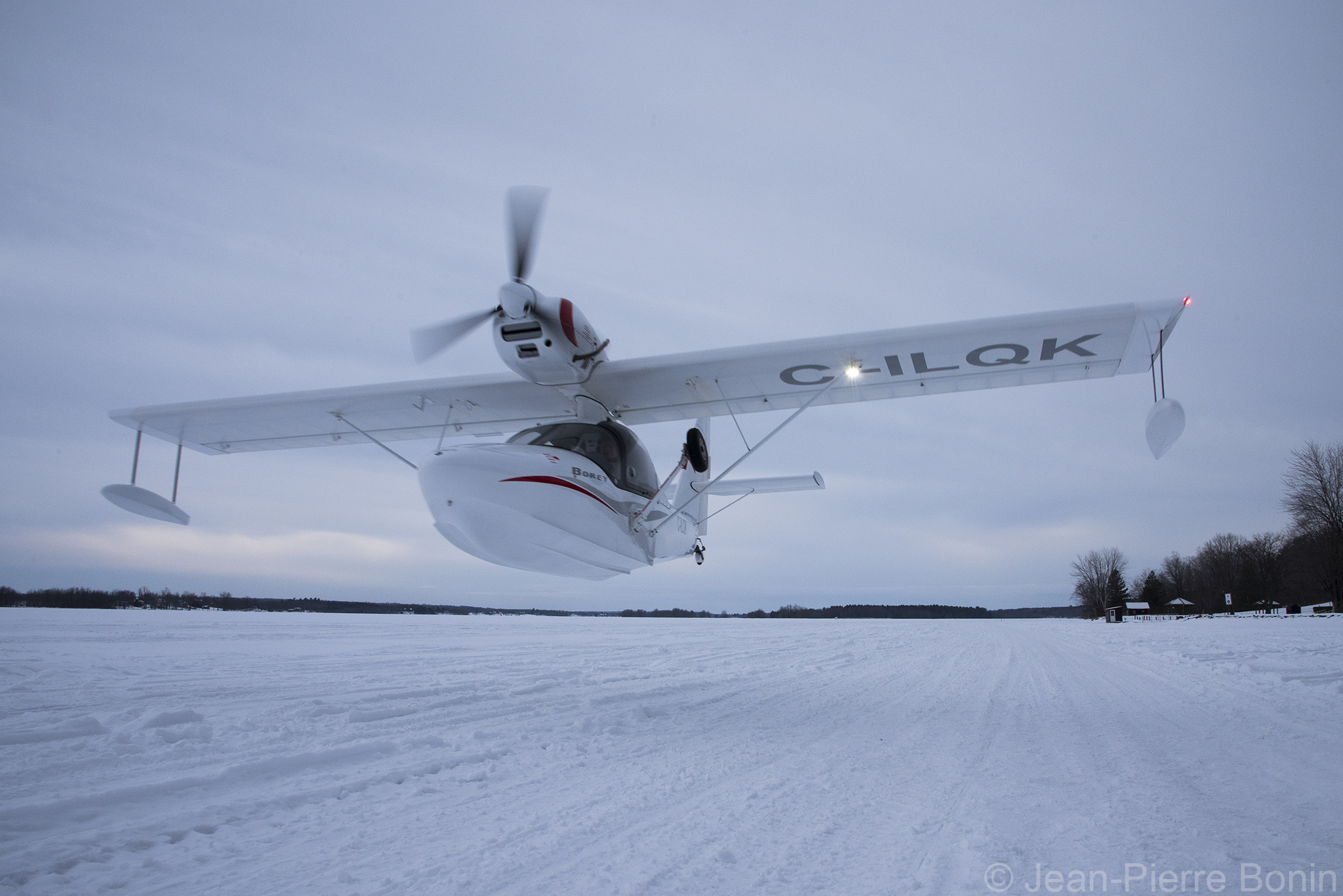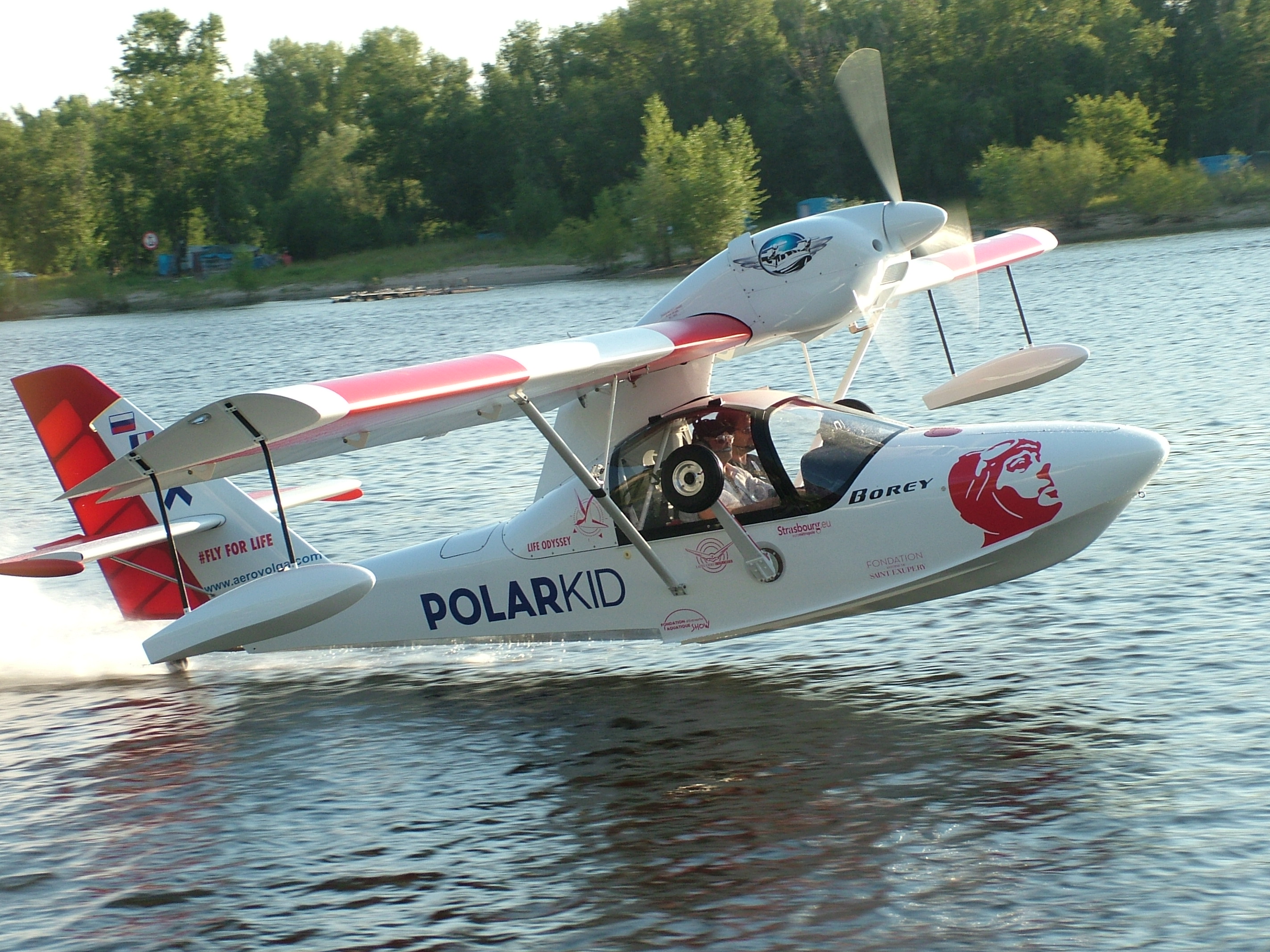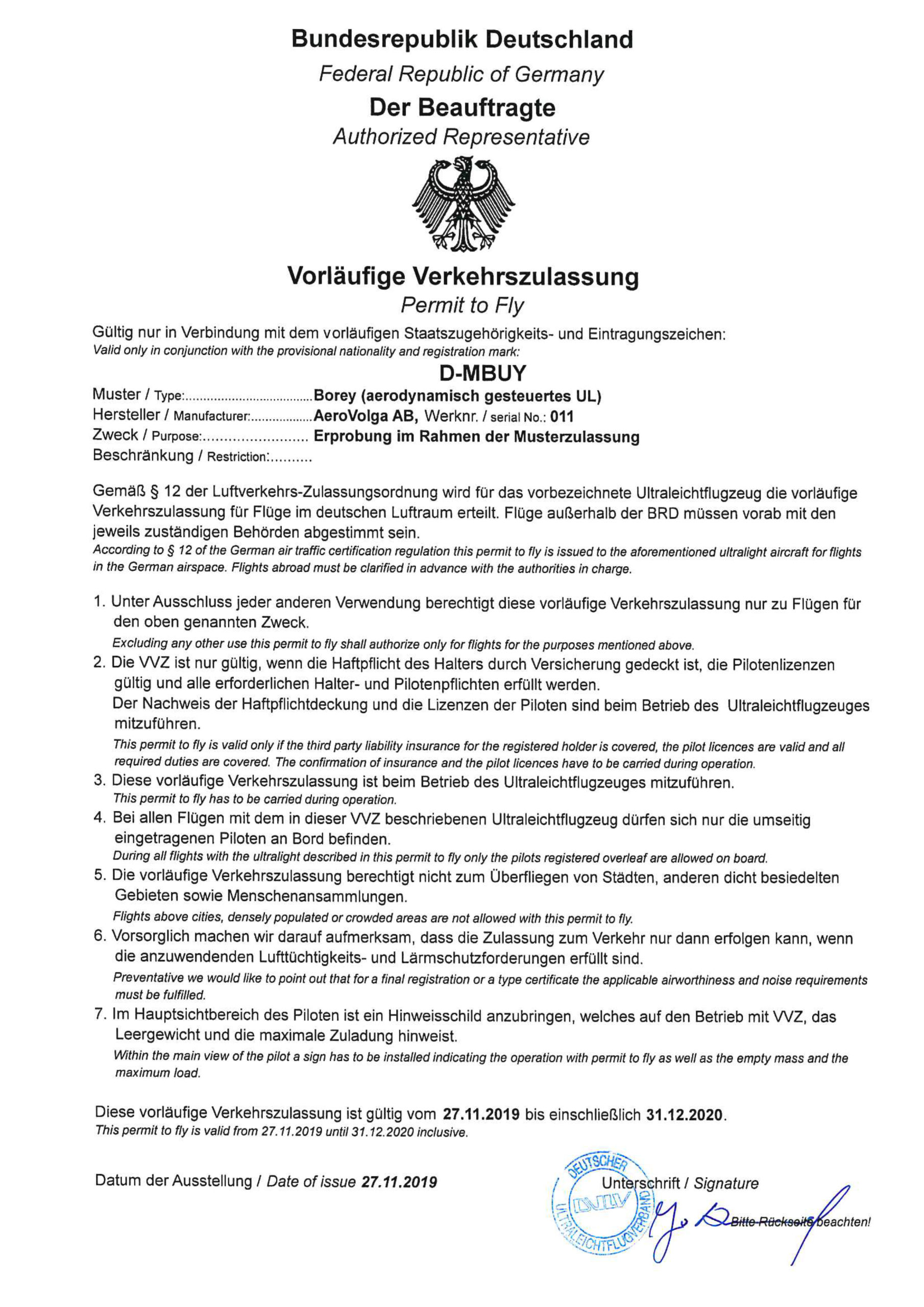 Good performance, simple and reliable quality was confirmed by a Round-The-Polar-Circle-Tour of more than 20.000km, which was carried out by AeroVolga-Airplanes BOREY and the LA-8!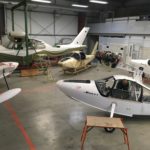 *All the dates are preliminary due to the certification process and may change withour prior notice
Empty weight – 385 kg
Maximum take-off weight – 650 kg
Engine – Rotax 912 UL (100 hp.)
Never-exceed speed VNE – 198 km/h (107 knots)
Maximum cruise speed – 160 km/h (95 knots)
Stalling speed – 67 km/h (36 knots)
Rate of climb – 3.5 m/s (700 ft/min)
Take-off run (land) – 150 m (492 ft)
Take-off run (water) – 180 m (590 ft)
Landing roll on land – 120 m (393 ft)
Landing roll on water – 150 m (492 ft)
Take-off distance (land) – 400 m (1312 ft)
Take-off distance (water) – 500 m (1640 ft)
Maximum flight range – 760 km (410 nm)
Maximum flight endurance – 7 hr
Wave height capability – 0.5 m (1.64)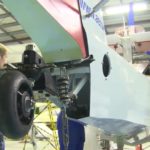 Seats – 2
Front cargo compartment – up to 50 kg
Aft cargo compartment – up to 50 kg (enough space for up to three boxes of (beer-) crates.) This is unic for all existing Ultralight Aircrafts.
Slide windows on both doors
Titanium spring struts for outrigger floats
Flaperones – manually operated
Structure – carbon-fibre composite glass and carbon composite
Colour – white
Service placards are in English
Landing gear retraction – manual
Brakes – hydraulic, from the left seat pedals
Towing eye
Main wheels – 5.00 x 5
Landing gear – with steerable tail wheel
Brakes for the right seat position: + 1.4 kg
Parking brake: + 0.4 kg
BRS: + 10 kg
The second cigarette lighter on the right: + 0.3 kg
Landing light: + 0.6 kg
NAV & strobe: + 0.9 kg
Bilge pump: + 1.1 kg
Cockpit heating: + 3.1 kg
GARMIN G-5, including magnetic compass (instead backup speed indicator): + 0.8 kg
2 Headrests: + 0.8 kg
Transponder Mode S: + 2.0 kg
EFIS G-3X, including PFD and EMS, instead of Glance: + 6.0 kg
Additional features G-3X: transponder Mode S, including
ADS-B in & out: + 1.5 kg; backup transceiver GTR-20R
TAWS: + 0 kg; weather receiver: – 0 kg
Camcorder: + 0.5 kg
Docking station for Garmin 795/796 on the right panel: + 0.6 kg
Interconnection of the auxiliary auxiliary aidio (3.5 mm) on the headset through the intercom: + 0 kg
Rotax 912S: + 3.4 kg
Rotax 912 ULS: + 2.9 kg
Rotax 912 A/F: +0.0 kg
Aft cargo container: + 2.8 kg
Set of snow skis (not amphibious): + 6.0 kg (taking into account the reduction in weight by removing the wheels of the main
and rear landing gear)
Painting of engine cowling, propeller spinner and rudder in one of three colours: red, yellow or deep blue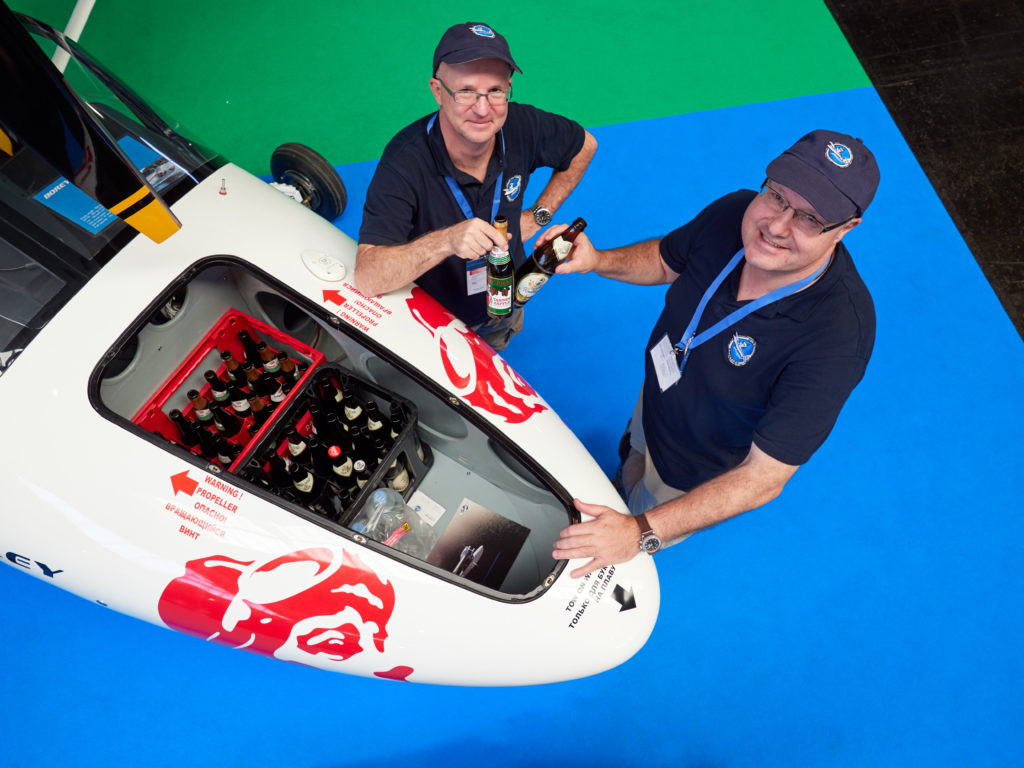 The Exhibition AERO2018 was the launching of the BOREY to the European Market. Many pilots were interested in this new Amphibium Ultralight Aircraft. Due to the big response AeroVolga decided to start the certification process for the new 600kg-class in Germany (LTF 2019-UL). 
In 2019 we will show at the AERO in Friedrichshafen the newest variant of the BOREY. The 2018-trip to the polar circle and the newly published building regulations for Ultralights in Europe (Germany) became some necessary changes needed for the serial production.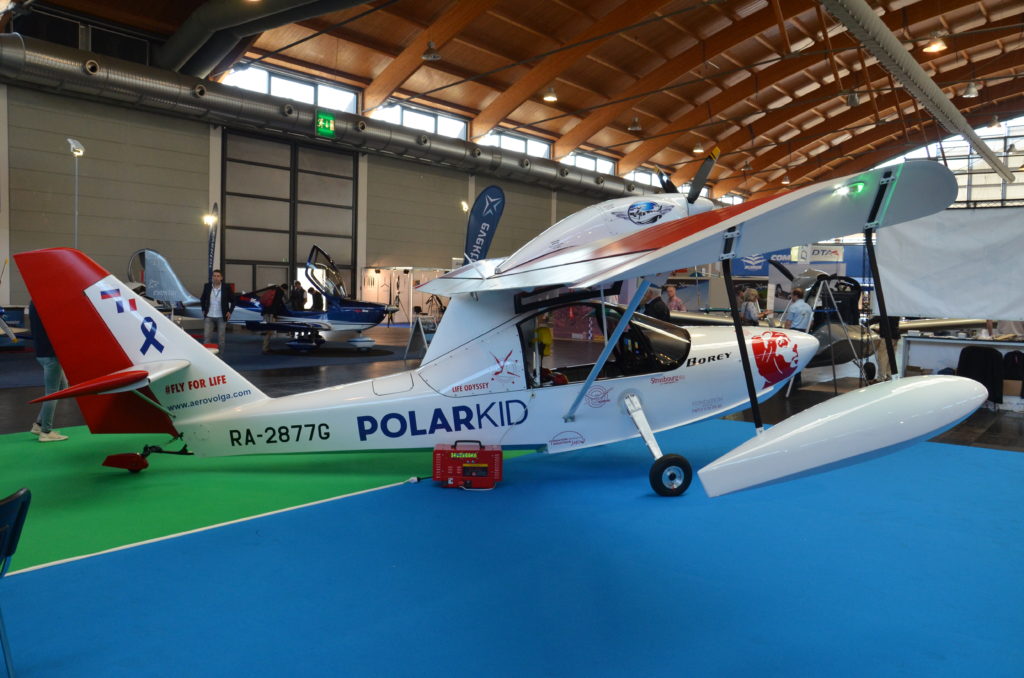 Display Glance EFIS, including PFD, MFD, EMS
and voice information system:
PFD features indicators:
Airspeed
Turn-slip
VSI
Altimeter
Magnetic compass
Gyro horizon
G-meter
OAT
EMS features indicators:
Tachometer
Cylinder head temperature
Oil temperature
Oil pressure
Fuel gauge in the left and right tanks
On-board electric system voltage level
and battery charge current
MFD features:
Ground speed
GPS navigator
Flight planning
OTHER STANDARD EQUIPMENT:
Backup barometric pressure speed indicator 3-1/4″
Transceiver Garmin GTR-200 (8.33 kHz) with intercom
Fuel boost pump
Electrical elevator trim tab with indicator
Generator failure indicator
Battery: 16 A·h
Carburettor heating
Cigarette lighter: one on the left
Cockpit lighting
Jacks for two headphones
ELT 345 ready
Pitot heat with failure indicator
Pitot probe cover
Elevator and flaperon gust locks
Maintenance documentation (English)
Flight log (English)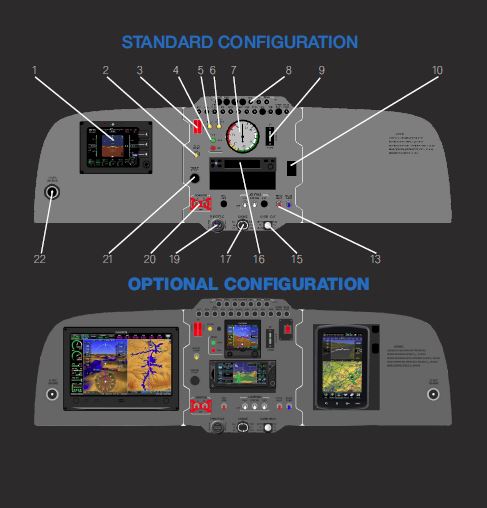 1. Display Glance EFIS
2. Fuel pump switch
3. MASTER switch
4. Landing gear lock indicator
5.Generator failure indicator
6. Pitot heat failure indicator
7. Backup speed indicator
8. Circuit breaker panel
9. Elevator trim indicator
10. ELT (emergency location transmitter)
remote control
13. Pitot heat switch
15. Carburettor heat control
16.GARMIN GTR 200 or similar
17. Choke knob
19. Throttle
20. Ignition switch
21. Starter button
22. DC 12 V socket